Watch The Missing Lynx
---
"Exinction Is The Least of Their Problems"
The Missing Lynx is a charming family film in Spanish. Released in 2008, this film was the creation of Antonio Banderas. It offers the fun story of a lynx that becomes a hero to the animal recovery center at his beloved Doñana National Park. It was directed by Manuel Sicilia and Raul Garcia. The characters band together to create a virtual "noah's ark" to save the remaining animals from the kidnapping that is happening on an increasing basis. It is called that because it is actually the boat of one of the characters named Noah, played by Julio Núñez. The lead character is voice acted by David Robles. The love interest was Beatriz Berciano performing the voice of Lynxette.
The bad guys are the mercenaries that are kidnapping the animals which Noah and Felix, the lynx main character help save through various life-threatening situations where they fear complete failure. They feel that everything is lost towards the end of the movie. It is written in the genre of a fairy tale that leads to the good guys winning. It doesn't disappoint that fact. As the story progresses and wraps up, the two main characters get cozy and have a baby and as all fairytales, they live happily ever after.
|
2009
|
1 hr 40 min
|

/

10
Cast

Studio

Director

Raul Garcia, Manuel Sicilia

Language

English
More Like The Missing Lynx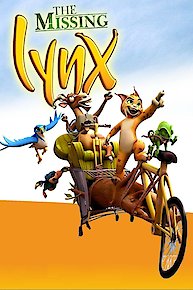 Watch The Missing Lynx Trailer

Missing Lynx - Official Trailer
|
1:58

Watch The Missing Lynx Online - Watch online anytime anywhere: Stream, Download, Buy, Rent
The Missing Lynx is currently available to watch and stream, download, buy, rent on demand at Amazon Prime, Amazon, Google Play, YouTube VOD online.